Farmers way, Agricultural wastes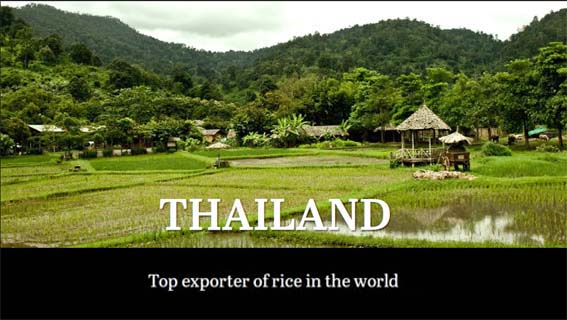 Thailand is located in tropical zone; it is a source of biodiversity. As an agricultural country, Thailand cultivates rice on 10 million ha area, including upland field crops, fruits, vegetable and ornamental plant on another 9.3 million ha. But there are still 852 million people who are suffering from hunger and malnutrition. There is link between rice production, food security and global climate change.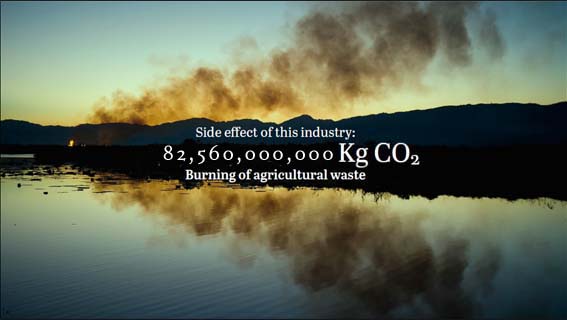 Rice is a staple food for more than half of the world's population while straw burning is a common practice in large parts of Asia. which is the quickest and costless management method.
"Burning of crop residues is to eliminate waste after harvesting all over the world.  In Thailand, for example, open burning of rice residues is approximately 22 Mt annually that emits greenhouse gases (GH) in term of carbon dioxide (CO2) equivalent to 27 Mt. Kokoboard come up with creative management by turning agricultural residues such as rice straw, coco dust and peanut shells, into bio-particleboard. These boards benefit for decorative material for floors, wall, ceiling and designer products with properties of flame retardant, moisture resistant and termite resistant with no chemical add in."
Kokoboard turns agricultural residue into panel board.

Driven by environmental and social missions, Kokoboard is the enterprise aims to save trees and keep the forest for the next generations by adding value to agricultural residue to make wood-substitute board with the desire to stop deforestation and extend the life of living green forest through innovative technology while at the same time alleviate poverty in the rural farmer community. In addition, we ensure that our products are up to standards and safe to health and wellness of our end users, workers, and surrounding community.
Kokoboard is a wood-substitute material (Eco-material) made of various kind of agricultural residue which holds its own unique texture, color and natural scent. With Rice straw board and Coconut dust board meet standardized with many good add-in property of flame retardant, moisture resistant and termite resistant with non-chemical. Every type of Kokoboard's materials are non-formaldehyde (Super E0), proved by natural scent from material themselves. Its products are unique in texture and suitable for flooring, ceiling, walling, as well as furniture making.
More info (662)979-8910, (6680) 5594446
Mail to:  info@kokoboard.com , kokoboard@yahoo.com