KOKOBOARD CO.,LTD.
Kokoboard is a social enterprise which produces particle boards from those agricultural wastes.
Commits to increase farmer's income and reduce carbon dioxide produced by incineration, hoping to realize sustainable world.
Our Vision
To be innovator utilize the agricultural waste in manufacturing, design and marketing.
Our Mission
Save tree, keep green forest for next generation with innovation
Strengthen team capacity in production and transferring of Kokoboard know-how
Alleviate poverty of farmers' community
Kokoboard is a Social Enterprise with the inspiration of which alleviates poverty in the farmer community. We realize that in which the rice growers and food ingredients supplier for Thailand and the world's population are necessary. We want to see Thai farmers have a better quality of life. Warm family And strong community With this idea We are trying to create more income for farmers. By adding value to leftover agricultural resources. We also try not to create another garbage for the world. Reduce open burning in the field. Reduce greenhouse gas emissions Reduce global warming. Prolong the forest as a long time for the world. We try to understand the market of our new eco-friendly products/material. This means that farmers can own their own businesses in the future.
Farmers in Thailand and throughout Asia, using the method of burning the residue in the field, as there is no technology to help farmers manage waste in the field efficiently, quickly and inexpensively.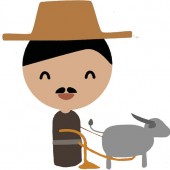 The farmers understand that Rice straw is useful as a natural fertilizer, no need to buy chemical fertilizer. However, farmers earn income from the sale of agricultural products (single crop). They are primarily a need to accelerate plantings yearly and harvest quickly for sale. They are trained and familiar with this management after the Industrial Revolution, including lack of good education, are the reasons why farmers choose not to wait for rice straw to decay naturally which lasts more than three months. Another hand, with EM, It takes more than a month for those straws to decompose and cultivate. It is too difficult for farmers to plan the planting in accordance with weather and water conditions.
Kokoboard is developing our knowledge base, and invent tools to increase the value of agricultural residues. We change the perspective of agricultural residues to agricultural byproducts (Postharvest resource), that can be processed to add value products/material. Reduce air pollution, reduce carbon emissions. Reduce greenhouse gas emissions and reduce global warming, at the same time slow down the cutting wood for the production of wood panels. We could help extend the life of the forest to absorb carbon dioxide longer, fresh air for humans.
Our main product is the Rice Straw Board, the eco-board or rice plywood. The material is environmentally friendly, used as interior materials. Colorful patterns are unique in nature. The property is equivalent to particle board with a high property of flame retardant, moisture resistant, termite resistant and non-formaldehyde emission (Super E-0)
With the semi-craft production we discovered, Kokoboard can produce other natural-plywoods those are Peanut Shell Board, Rice Husk Board, and others. We have Service: R&D the possibility of making a board from other agricultural residues from the field and from agro-industries, through seeking technology making eco-board to meet the industrial scale.