Social Enterprise, Kokoboard
Kokoboard is small manufacture for Eco-material of wood-substitute board. We develop our own pilot plant with supportive of National Science and Technology Agency (NSTDA) and Royal Forest Department, and Prof. Karn (Sakorn) Kantachote, to make our dream comes true.

Kokoboard's products are truly Eco friendly and social responsible products. Reduce Deforestation, Reduce open-burning agricultural residues, Reduce Co2 emission into environment, Value added to natural products, and benefits added to Thai farmers' living, are all Kokoboard's core objectives.
By all the objectives, bring Kokoboard the winner indeterminable award NAME "THAI SE AWARDS 2014 (CHANGE AWARD) from Thai Social Enterprise Office (TSEO)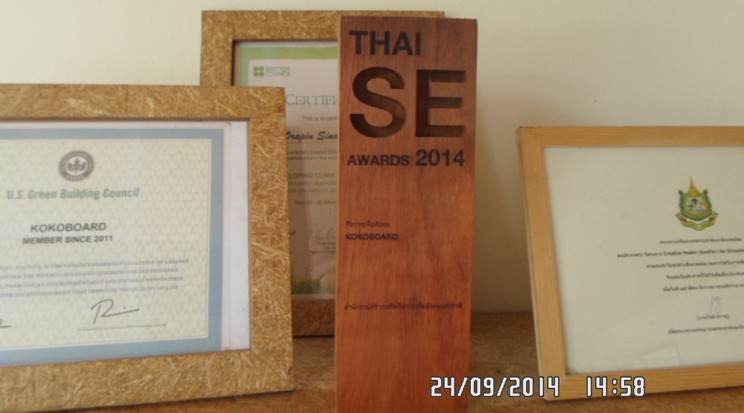 Kokoboard's particleboard are wood substitute boards (Eco-material) that consist of many good standard properties that pass the test report from Department of Science Service (DSS) under the Ministry of Science and Technology of Thailand.
Special excellently properties as Good strength, High moisture resistant, Termite resistant, Fire retardant, and Non-formaldehyde (Super E-0) in conjunction with unique beautiful textures from natural raw materials are all present KOKOBOARD, a new beautiful wood substitute board while not necessary to use other veneer material to cover on boards.
Kokoboard's boards are Eco-friendly green boards made from natural raw material with no hazardous chemical add-in that are strongly recommend for safety use purposes and not harmful to human living.
Kokoboard's particle boards are suitable to use as a decorative material and as furniture material to substitute other regular boards and woods with easy and same carpenter skill.